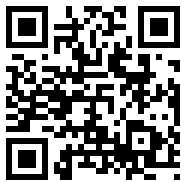 I know this is not a marketing website, but I've had so much fun lately teaching people about QR codes that I'd thought I'd share a few thoughts. On Friday (along with a friend of mine whose business I'll plug at the end of this article) I gave a presentation on QR Codes (pictured above) to a group of business people. The presentation was well received, but hardly because the information I provided was difficult to find, hard to understand, or highly challenging to implement. In fact, getting a QR code that directs mobile users to a web page, Youtube video, or Facebook page is child's play. And if you have a smartphone, installing an app that allows it to read QR codes is about as easy as anything you can do on the phone. So why did the business people at my presentation get so amped up?
I think it was because of all the time we spent giving them ideas on how to use the QR code to promote their businesses. We started out with the obvious ideas, like business cards and magazine ads, and then explored the virtually unlimited possibilities, including QR codes on t-shirts, wine labels, greeting cards, books, and training manuals. Basically, you can put a QR code on any physical item that relates to your business, and have it direct your clients' smartphones to any compatible information that can be posted on the interweb.
As much as I think the QR Code is only a nifty step on the way to the singularity (the total integration of computers and the internet into the human mind), it's got some really fun possibilities in the meantime. Suppose you send a gift to a friend with a QR code on a label inside. They scan the QR Code and a video of you opens in which you talk about your experience buying the gift and what aspects of your relationship you were thinking about when you were shopping. Or suppose you send your resume to a prospective employer with a QR Code that takes the HR person to a video resume, complete with past employers singing your praises and live action images of your doing your thing. What if you send your customers a monthly card that looks like a book cover, and the QR Code embedded there takes them to the actual pages of an online book or novel?
Anyhoo, I am going to use the QR Code in a variety of creative ways in my businesses over the next few months, and I plan to have a ton of fun doing it. I hope you will too.
If you're interested in a way to send greeting cards and timely gifts without having to actually do any work, check out my co-presenter Sharon Lagina's site at SendOutCards.com.